Quality Mark
'Quality Mark' for Cattle Feed and Mineral Mixtures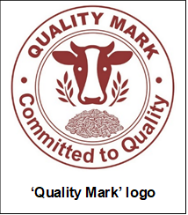 Quality of cattle feed has a direct impact on milk production, reproduction and immunity of dairy animals, and thus profitability of dairy farmers. Quality of cattle feed is also important from the food safety point of view, as most of the contaminants such as Aflatoxin B1, pesticides and heavy metals can be transferred from feed to milk and pose health hazards to humans.
National Dairy Development Board (NDDB) has mooted a 'Quality Mark' for various types of cattle feed, feed supplements and mineral mixtures produced by Cattle Feed Plants (CFPs) of dairy cooperatives, government and semi-government entities across the country. This 'Quality Mark' was launched in September 2018.
'Quality Mark' - is an assurance of standards both for manufacturers and dairy farmers
'Quality Mark' on the bags of cattle feed or packs of feed supplements/ mineral mixtures conveys that the feed manufacturer conforms to specific nutritional standards and implements Standard Operating Procedures for manufacture and storage of the same.
'Quality Marked' feeds help in improving milk production, fertility, and overall immunity of dairy animals.
Process for Awarding 'Quality Mark'
A two-step procedures is adopted by NDDB to award the Quality Mark to manufacturers in the dairy cooperative, government and semi-government sectors.
Preliminary Assessment of Cattle Feed Plants (CFP) is conducted to evaluate their procedures/ systems pertaining to feed formulation, manufacturing process and quality control systems.
Final Assessment involves an on-site visit by NDDB officers for verification of the procedures being followed. The unit shall be considered for award of the 'Quality Mark' based on 80% per cent compliance in quality of finished products, and 20% per cent compliance in other parameters (process, laboratory etc.).