RT @IRMAOfficial79: Dr. Meenesh Shah, Chairman, IRMA addressed participants in the inaugural AlumPowerHour session, organized by the studen… nddb
Ms Melanie Phillips, Agriculture Counsellor, NZ High Commission alongwith Dr Andreas Van Halderen, Principal Adviser & Dr Garry Udy, Specialist Adviser of New Zealand's Ministry for Primary Industries and Prof Naomi Cogger, Professor in Epidemiology, Massey University called on… https://t.co/iUTKhMss8M https://t.co/JUencMGA8K nddb
सूर्योपासना और आस्था के महापर्व "छठ पूजा" की हार्दिक शुभकामनाएं। हमारी कामना है कि भगवान सूर्य आप सभी के जीवन को सुख-समृद्धि, वैभव एवं आरोग्य से परिपूर्ण रखें। https://t.co/gN3DhCC2s6 nddb
Addressing the august gathering during the inauguration of the International Conference on 'Managing Sustainable Transition in Agriculture: Newer Directions for Research and Civic Action' at IRMA, Dr @ShahMeenesh , Chairman, NDDB and @IRMAOfficial79 stressed on bringing about… https://t.co/E93t3W7gvQ https://t.co/4ciZlVQaNe nddb
RT @IRMAOfficial79: Padma Shri Bharat Bhushan Tyagi delivering the Keynote Address at #MST2023 on "A New Paradigm for Sustainable Transitio… nddb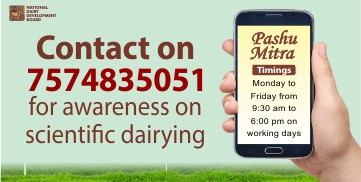 RT @IRMAOfficial79: Dr. Meenesh Shah, Chairman, IRMA addressed participants in the inaugural AlumPowerHour session, organized by the studen… nddb
Ms Melanie Phillips, Agriculture Counsellor, NZ High Commission alongwith Dr Andreas Van Halderen, Principal Adviser & Dr Garry Udy, Specialist Adviser of New Zealand's Ministry for Primary Industries and Prof Naomi Cogger, Professor in Epidemiology, Massey University called on… https://t.co/iUTKhMss8M https://t.co/JUencMGA8K nddb
सूर्योपासना और आस्था के महापर्व "छठ पूजा" की हार्दिक शुभकामनाएं। हमारी कामना है कि भगवान सूर्य आप सभी के जीवन को सुख-समृद्धि, वैभव एवं आरोग्य से परिपूर्ण रखें। https://t.co/gN3DhCC2s6 nddb
Addressing the august gathering during the inauguration of the International Conference on 'Managing Sustainable Transition in Agriculture: Newer Directions for Research and Civic Action' at IRMA, Dr @ShahMeenesh , Chairman, NDDB and @IRMAOfficial79 stressed on bringing about… https://t.co/E93t3W7gvQ https://t.co/4ciZlVQaNe nddb
RT @IRMAOfficial79: Padma Shri Bharat Bhushan Tyagi delivering the Keynote Address at #MST2023 on "A New Paradigm for Sustainable Transitio… nddb
ABOUT NDDB
The National Dairy Development Board's (NDDB) creation is rooted in the conviction that our nation's socio-economic progress lies largely on the development of rural India.
The Dairy Board was created to promote, finance and support producer-owned and controlled organisations. NDDB's programmes and activities seek to strengthen farmer owned institutions and support national policies that are favourable to the growth of such institutions. Fundamental to NDDB's efforts are cooperative strategies and principles.
NDDB's efforts transformed India's rural economy by making dairying a viable and profitable economic activity for millions of milk producers while addressing the country's need for self-sufficiency in milk production.
NDDB has been reaching out to dairy farmers by implementing other income generating innovative activities and offering them sustainable livelihood.